Regular servicing or maintenance will ensure your mobility scooter continues to be safe and in fully working order.
Mobility Repairs performs mobility scooter service in Melbourne to most major brands of scooters as a mobile service where I come to your home. In some cases, I may need to take your scooter to my workshop for more specialised attention.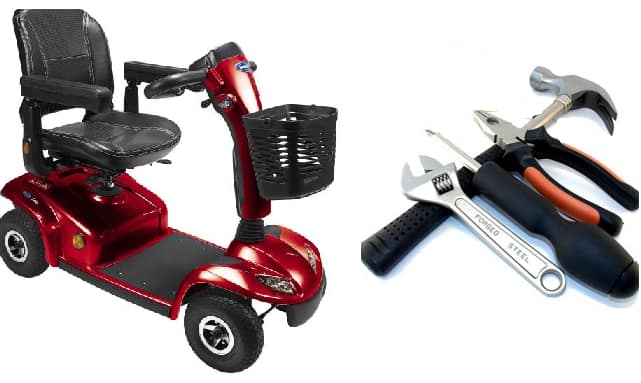 Mobility Scooter Service
Your mobility scooter should be fully serviced at least once each year.
To ensure reliability, safety and performance, get your mobility scooter serviced by Mobility Repairs.
Money spent now on a service could save you hundreds of dollars on parts or replacement products in the future.
A maintenance service usually takes approximately 45 minutes and the following infographic shows what to expect when you have Mobility Repairs perform a mobility scooter service.
To recap the above infographic, the following list is an example of what a service entails.

1. Initial discussion and test drive for any faults or concerns.
2. Remove & replace rear wheels to lubricate axles.
3. Lubricate and inspect all front end pivot points and rotating parts.
4. Lubricate seat pole.
5. Check and lubricate suspension/shockers.
6. Checking and testing the motor and components, including motor brushes.
7. Testing the scooter batteries and battery charger, including battery voltages and load tests.
8. Check electrical leads for lose connections or damage.
9. Check freewheel lever.
10. Check horn, lights, indicators and console functions are working correctly.
11. Check high/low speed switch.
12. Check turning speed sensor.
13. Check speed pot.
14. Check key switch.
15. Check brakes.
16. Checking for damage on tyres and rims , wear and tear, and applying correct air pressure to all tyres.
17. Tightening any loose parts, nuts and bolts.
18. Test drive.
Imagine taking a trip to the shops or a stroll down the park, only to have your scooter break down on the way.
The wear and tear of constant daily use of your mobility scooter can take its toll over time and if it fails for any reason, it can be a very stressful time.
Regular servicing of your electric mobility scooter, is the best form of insurance against breakdown and defects.
Do you want to trust a retail store to do your service and repairs where their number 1 priority is sales. Or do you want someone who genuinely cares about you and believes that your money is better in your own pocket instead of unnecessarily spending money on spare parts such as new batteries or updating your scooter when you actually do not need to?
Book a service today to make sure your mobility scooter is in great condition.
To book your service please call 0432 046 419 or fill in my on-line enquiry form here.